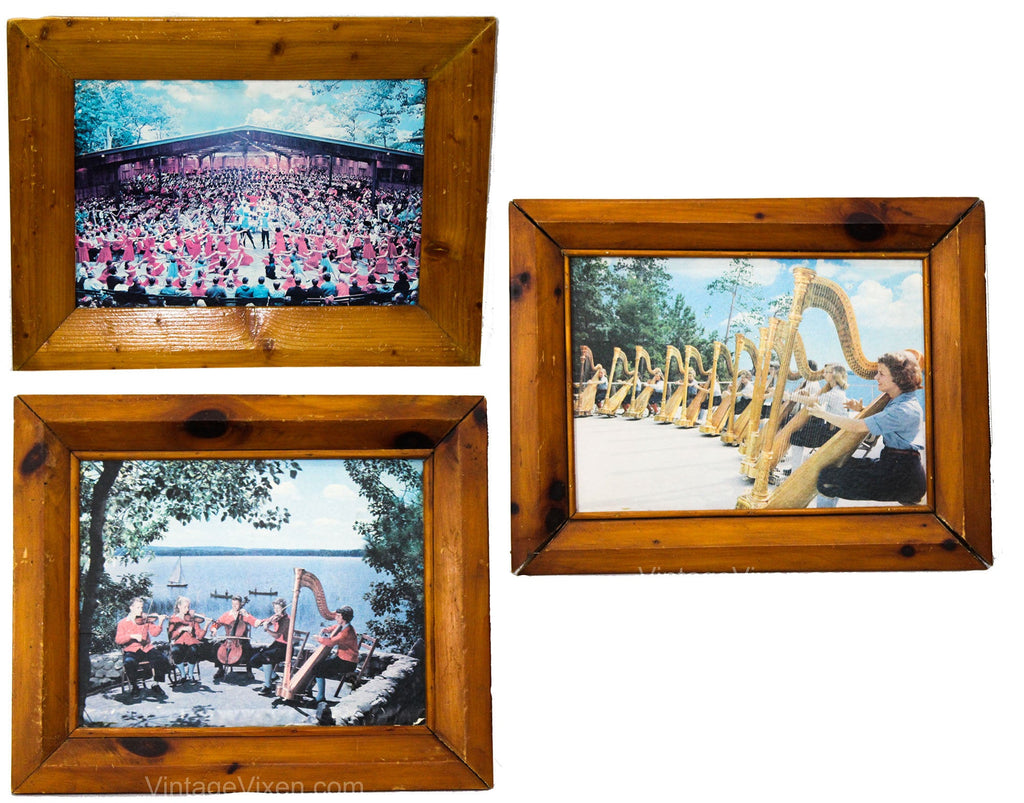 3 Framed Prints of Interlochen Arts Camp Michigan - Pictures 50s Harpists Orchestra Ballet Dancers - Les Preludes Musicians - Pine Frames
Wonderful vintage scenes from Interlochen Arts Camp in Michigan circa late 1950s. Three color prints are included: Les Preludes end-of-season performance, a glorious print of a harp circle, and a quintet overlooking one of the lakes.

These are 1950s era prints in very rustic pine frames, the prints measuring about 9 x 13, 10 x 14 inches, etc. The frames are also a bit variable in size, like 15 x 19 inches, 18 x 13 inches, etc. Together they comprise a marvelous trio from a venerable summer school for top musicians.

Condition is fair with a few tiny white specks to the prints, and obvious scuffing and wear to all three of the pine frames (see photos). The frames were a bit off-kilter and we have secured them as well as possible, though some corners are warped so that the seams are open. The hanging wires on the back are also quite secure, one of them repaired years ago with a zip-tie. The rustic appeal is imperfectly lovely, just like the old cabins and practice huts of Interlochen itself.

Shop thousands of vintage clothes in one place with VintageVixen!