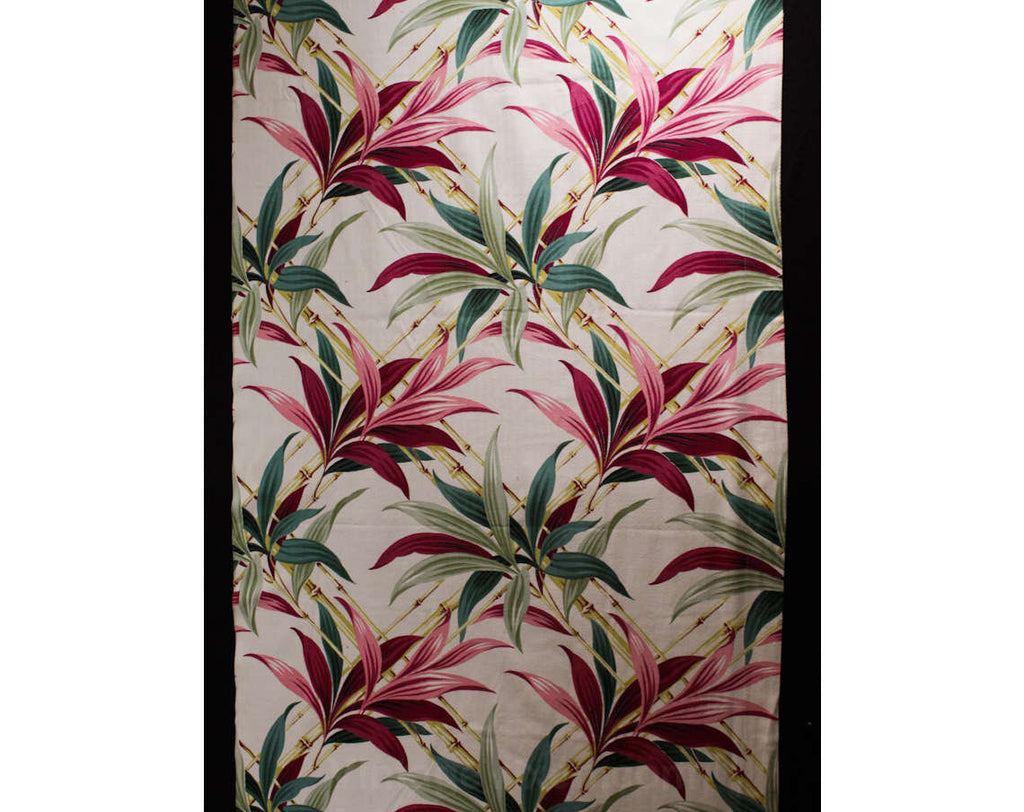 Set of 4 Tropical Drapery Panels Plus Over 6 Yards Fabric - 40s Bamboo Barkcloth Drapes 2.83 Yards x 32.5" - 1940s Pink Green Yellow Yardage
Fantastic 1940s vintage drapes! This tropical bamboo drapery is a set of four panels in lush bamboo print on gorgeous twill cotton, and there's lots of bonus yardage for matching upholstery ideas.

Each drape has a pole pocket sewn to one end, and a deep 3.75-inch hem to the bottom. The sides of the drape are either the original selvedge or a nice clean hemmed finish, with the selvedge printed "Guaranteed to be Vat Prints".

Each drapery panel measures 2.83 yards long x 32.5 inches wide. Condition is very fresh with a narrow tinge of age toning along some edges, and a few flaws as follows:

1) Very fine condition with an occasional isolated brown speck, approximately 10-15 total, hard to notice.
2) Good condition, approximately 20-30 brown specks in random places, looks mostly like part of the weave, with three abraded holes along the length of one side. One of the holes is repaired (see 7th and 8th photos), the largest is 3 inches long.
3) Very good condition, similar tiny specks that look mostly like the weave, with a vague beige liquid line about 4 inches long (see sixth photo) a few inches above the hem.
4) Good condition, has slightly larger beige/brown marks throughout, a few of these might be slightly noticeable once hung and arranged.

The fifth piece of yardage measures 26 inches wide for the first 3.4 yards, and continues as a larger rectangle measuring 35.5 inches x 3.8 yards. Amazing find.

Note that this is very similar to barkcloth in weight, fiber, dye, history and appearance, but it is a twill weave, not a barkcloth weave. Colors are rouge, mauve pink, sage green, celadon, emerald, golden yellows, soft black, vanilla.

Questions? Ask a Vixen! We're always here to help :)

Shop thousands of vintage clothes in one place with VintageVixen!